The heart of our work at Oregon Humanities is connecting people across differences of belief and experience in pursuit of a more reflective, more connected, and more just Oregon.
We do this in a few different ways. We share stories, on the page and online, that explore the experiences of Oregonians. We bring people together, face to face, to talk about questions that cannot be answered quickly or easily. And we work with organizations and individuals to share stories and start conversations in their own communities.
In 2017, we did more of all of these things than ever before: more stories, more conversations, more trainings, and more partnerships.
We feel intensely grateful and lucky to do our work with and among all of you. This work only makes sense and has meaning as part of an ecosystem. We are honored to make the contributions we can and delighted to see this ecosystem growing and getting stronger.
—Adam Davis, Executive Director
2017 Statement of Activities
Net operating results: $282,409
Sharing Oregon Stories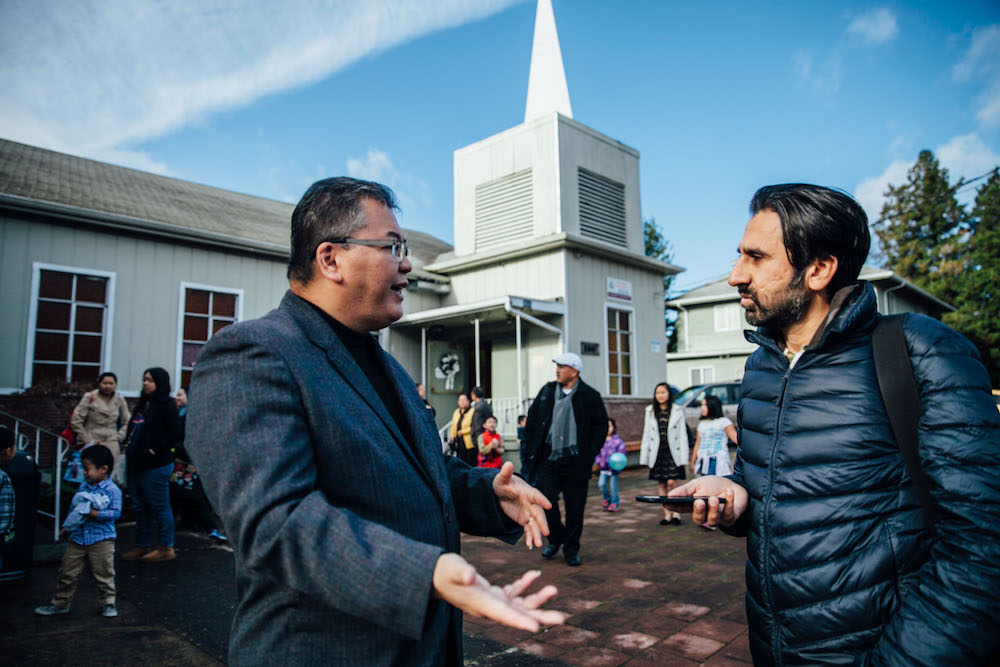 Tojo Andrianarivo
In Oregon Humanities magazine and here at oregonhumanities.org, we publish articles, videos, photo essays, and audio recordings that explore the thoughts, perspectives, and experiences of Oregonians, especially those who have been ignored, generalized, or oppressed.
In 2017, with the support of the Oregon Community Foundation, we launched This Land, an online multimedia project that collects and connects stories about land, home, belonging, and identity by Oregon's communities of color. Artists and writers from across the state collaborated to create articles, audio pieces, and videos for This Land.
In "Bitter Harvest," writer Putsata Reang and filmmaker Ivy Lin explored the stories of Chinese laborers who helped build Oregon's beer industry.

In "To Live More Free," photographer Ezra Marcos Ayala and documentarian Luis Rodriguez interviewed people in Southern Oregon about the experience of working while undocumented.

In "The Numbers," filmmaker Sika Stanton and journalist Donovan Smith talked to young people living in East Portland about their hopes and concerns for their community.
Stories from This Land have found lives beyond the website. They have been featured at public meetings and Think & Drink conversations, appeared at film festivals and at the Hollywood Theatre's screening room at the Portland Airport, and inspired newspaper articles and radio stories.
At one meeting in Gresham, "The Numbers" was used by participants as a prompt for a conversation about displacement, gentrification, and political power. Filmmaker Sika Stanton, who attended the event, wrote, "The film and the youth's voices gave people something to latch on to. It helped them talk about things that they knew were happening and were struggling to address."
Starting New Conversations
Tojo Andrianarivo
Record numbers of Oregonians came together in 2017 to talk across differences at conversations facilitated by Oregon Humanities. We trained our largest class of Conversation Project facilitators yet, who then traveled the state to lead programs on race, housing, debt, forests, fisheries, work, education, religion, democracy, and many more topics. In collaboration with local host organizations, our facilitators presented 246 events with more than five thousand participants in sixty-three communities across Oregon.
At Think & Drink, our series of onstage conversations in Portland, crowds turned out for three sold-out events on themes of race, power, and place. These live conversations, moderated by Adam Davis, invited participants to consider some of the most difficult issues facing our communities in a comfortable setting.
One attendee wrote, "The speakers encouraged more civil discourse and listening to each other better rather than trying to talk over one another in order to 'win' the conversation." Another wrote, "This was my first event and I thought it did an admirable job discussing issues that are hard to discuss in Portland because of the lack of diversity."
We also sponsored Think & Drink events outside of Portland in partnership with local organizations. In Bend, Deschutes Public Library hosted a conversation on criminalization and prison reform with writer and activist Walidah Imarisha. In Tillamook, the Tillamook Pioneer Museum convened a discussion on the impact of increased tourism in the county.
Building New Partnerships
Joseph Glode
Our Responsive Program Grants initiative, launched in 2016, continued to grow last year. These small grants of up to $1,000 are awarded on a rolling basis to support programs that respond to timely issues or events. In 2017, these grants supported work in communities from Astoria to Ontario. Between our responsive grants and our annual Public Program Grants, we awarded a total of $69,500 to twenty-three organizations.
Oregon Humanities also works to build capacity for connection in Oregon communities beyond financial support. In recent years, we've worked to train more facilitators to get more people talking around Oregon and beyond. The Facilitation Training program began in 2016 as a public workshop in Portland for anyone interested in learning techniques for conversation facilitation. The program has grown rapidly since. Participants have come from as far away as Montana, Utah, and New York to join our public trainings, and Oregon Humanities staff have led private trainings with organizations in Oregon and other states.
All told, through our grant programs, conversation programs, and other partnerships, Oregon Humanities worked with 184 organizations in 2017.
Thank You
The following supporters made gifts to Oregon Humanities between November 1, 2016 and October 31, 2017.
Names listed in bold have supported Oregon Humanities for five consecutive years or more.
Conversation Starters ($500+)
$100,000+
National Endowment for the Humanities
$50,000+
James F. and Marion L. Miller Foundation
MJ Murdock Charitable Trust
Oregon Community Foundation
$25,000+
Ford Family Foundation
Oneatta Fund of The Oregon Community Foundation
Social Venture Partners Portland
$15,000+
The Collins Foundation
Al and Nancy Jubitz
The Kinsman Foundation
Maybelle Clark Macdonald Fund
Ronni Lacroute
$10,000+
Paul Duden and Francesca Stevenson
Robert D. and Marcia H. Randall Charitable Trust
$5,000+
Sona Karentz Andrews
Echo Fund of The Oregon Community Foundation
Gardner Grout Foundation
Juan Young Trust
PGE Foundation
Portland State University
Rose E. Tucker Charitable Trust
Jennifer Schuberth and John Urang
The Wyss Foundation
$2,500+
The Jackson Foundation
Leotta Gordon Foundation
Literary Arts
Tony Salvador and Melissa Choi Salvador
Stoel Rives LLP
The Roundhouse Foundation
Tonkon Torp Attorneys LLP
Janet G. Webster
$1,000+
Autzen Foundation
Robert Calo and Elizabeth Lamade
Elaine and Arnold Cogan
Truman Collins
Adam and Regina Davis
Adam Davis and Hana Layson
Emily Georges Gottfried Fund of the Oregon Jewish Community Foundation
Robert Geddes
Mary Harris
Jelly Helm
Sara Hopkins
Emily Karr and Townsend Hyatt
Kate Kaufmann
Julie and Walter Manning
Julia K. Murray
NW Natural
Denise Reed
Robert D. Geddes and Cameron G.R. Geddes Family Fund of the Oregon Community Foundation
Spark Fund of The Oregon Community Foundation
The Lyceum Agency
Paul and Lory Utz
Charles and Cherie Walker
Ward Family Fund of the Oregon Community Foundation
Priscilla Bernard Wieden and Dan Wieden
Willamette Week
$500+
Carole Alexander
Jean and Ray Auel
Lara Bjork and Damon Jansen
Paul and Nancy Bragdon
Emily Castle
Jeff Cronn
Carol Edelman
Andra Georges and Timothy Shepard
The Johnson Family Foundation
Jennifer and Steven Marsden
Robert Melnick and Suzanne Bunker
Joan Nelson
Platt Family Fund of The Oregon Community Foundation
Portland General Electric Employee Engagement Fund
Ruth Rabinovitch and Tom Treger
Carole Shellhart and Bob McGranahan
John Shipley
Chantal Strobel
Mary Szybist and Gerald Harp
Tillamook County Pioneer Museum
TJ Education Fund of The Oregon Community Foundation
Christine and David Vernier
$250+
Gary and Carla Albright
Ed and Maureen Battistella
Martha Mull Belluschi
Matthew and Catherine Boulay
Evona Brim
Leonard and Janet Calvert
Adolph Evans
Karen Gernant
Adam Green
Richard L. Hay
Paige Hill
Kathleen Holt and Alex Dupey
Al Johnson and Susan Brody
Michael Johnson
Robert and Helen Ladarre
Paul Lambshead and Deb Fischer
Kate Lasky
Erika Leaf
P. Jayne Lebsack
J.S. and Robin May
Lois Mills
Ross Moran
Rick Sadle and Halle Mandel Sadle
Jennifer Sasser and Simeon K. Dreyfuss
Bud and Kate Schmidt
Susan M. Hammer Fund of the Oregon Community Foundation
Gregory and Sarah Truax
Whit Wagner
Brian and Nikki Weaver
Dave Weich
Tom and Kit Whittaker
Mitch Wolgamott
Wendy and Carter Wray
Bill and Julie Young
$100+
Suzanne Allen
Michael Andrews
Anonymous (5)
Kristy Athens and Mike Midlo
Marilyn Avolio
Martha Banyas and Michael Hoeye
Joseph Barkofski
William B. Barnett
Lois Barry
Paul Bascom
Betty's Books
Theodore and Betty Bezzerides
Louise Bishop and James Earl
Robert E. Blum and Carol M. Black
Cari and Christian Brown
Rex Burkholder
Darcy Burt Schoenberg
Joel Butler
Eliza and Kevin Canty-Jones
Jane Carlsen
Cynthia Chilton
Heather Chrisman
M. Cirillo
Rick Comandich
Mark and Carolyn Conahan
Mary Conlow
Patricia Connolly
Sybilla A. Cook
Dave and Char Corkran
Ron and Teecia Cornelius
Seth Cotlar
Naomi Dagen Bloom and Ronald Bloom
Michael Davidson and Patricia Johnson
Judy Davis
Nicholas and Janet De Morgan
Dale and Lois Derouin
Katherine Deumling and Brian Detman
Linda Dolan
Nathan and Eva Douthit
Edward Doyle
James Draudt and Ann Witsil
Madelyn Driscoll
Mike and Sandy Dubinsky
Barbara Dudley
Todd Dunkelberg
Kari Easton
Lori and Scott Eberly
Mary Eilers
Eric Eisemann
Arthur and Margianne Erickson
Charles Farmer
Ann and David Fidanque
David and Tracey Fiore
Judy Fisher
Cara Jo Frey
Jesse Friedman and Laura Hadden
Jesse Friedman
Edith and Will Fuller
Anne Gant
Robert Gentry
Melody Ghormley and Kyle Kroker
Jim Gibbons
Esther Gross
Andrew Guest
Kathleen Guillozet
Killeen Hanson
Ulrich Hardt and Karen Johnson
Christine Haug-Chin
Regina Hauser and Chris Carson
John Hawkins
Dawn Hayami
Edward and Kathleen Heath
Marypat Hedberg
Mary Heffernan
Nicholas Hengen Fox and Emily Teplin Fox
Lyn Hennion and Alex Bellen
Michael Hetrick
Sheree Hobson
Eloise Holland and Melissa McClure
Mark Holloway and David Kahl
Greg Holmes
Steve and Kris Hudson
Cassandra Hughes
Frances and David Hunter
Cecelia and Robert Huntington
Bette and Dean Husted
Linda Hutchins and John Montague
Marjorie Iburg
Darcy Burt Schoenberg
Harriet Isom
Alma and Michael Jackson
Shirley A Jackson
Cynthia Jacobi and Gary Lahman
Kyle Jansson and Carol Harding
Kathleen and John Jaworski
Christopher Johnson
Shirley Johnson
Josh Kadish and Lisa Maas
Annie and Aaron Kaffen
Claire Kellogg and Bruce Betzer
Jill Kellogg
Janet Kelly
Nancy Kelly
Gretchen Kimsey
Jill Powers Kirk
Annie Knepler and Adam Fischler
Michael Kosmala
Theodore Labbe and Kelly Rodgers
Mary Lehman and William Durst
Juliette Levy
Richard Lewis and Meg Larson
Ward and Gale Lewis
Muriel D. Lezak
Ken Limbocker
Wenda Lloyd
Ingrid Louiselle
Ruth L. Love
Donna Loveland
George and Mary Ann Machan
Carolyn Madsen
Mimi Maduro
Gary Maffei
Ann Magill
Barbara and Timothy Mahoney
Barbara Manildi
Deborah Maria
Fred and Elizabeth Maurer
John May
Guy and Shelley Maynard
Cecily McCaffrey
Richard Meeker and Ellen Rosenblum
Margaret Mesirow
Microsoft Matching Gifts Program
Randolph Miller
Kate Mills
Robert Moe
Mona Suehiro Mozeico
Martin Muller
Sheila Murty and Jason Job
Damon and Margaret Ogle
OK Café at Les Schwab
Linda E. Olds
David C. Olson
Madeline Olson
Nancy Orcutt
John Ousterhout
Cheryl Parton
Paulann Petersen
Alison Pezanoski-Browne
Russ Pierson
Steve and Shannon Planchon
Ken Pyburn
Jarold and Dorothy Ramsey
Camela Raymond
Mary Rechner
Deborah Redman and Donald Whittemore
Robert Reed
Richard Rees
Donald and Carolyn Rice
Errol Rich
Jane Rickenbaugh
Marguerite and Rodney Roberson
Jen and Tim Roberts
Glenn Rodriguez
Pritam Rohila
Sally Russell
Jane Sage and Tom Olbrich
Bob Scales
Diane Schaffer
Edward Schmidt
Aili Schreiner and Kyle Brown
Kate Schuyler
Diana and Jerry Sellers
Dan Sengenberger
Elizabeth Sheehan
Bill Smaldone
Sam Smith
Rhea Stadick and Alan Blood
Karen Starleaf and Ron Davis
Ann Starr
Maggie Starr and Sarah Hardin
Raymond Starr
Robyn Steely
Peter Stone
David Stout and Sue Ann Higgens
Joy Strand and Daniel Anderson
Roger Straus
Sheila Sundahl
Leslie Taylor and Douglas Beers
Terrel and Bonnie Templeman
Linda and James Thomas
Kate Thompson
Lianne Thompson
Dale Thoreen
Dan and Joan Thorndike
Misti Timshel
Christina Trevino and Elissa Breitbard
Clifford and Jo Anne Trow
Karen and Damon Vickers
Ben Waterhouse and Deanna Oothoudt
Julia and Bill Wayne
Nancy and William Webber
Helen Weber
Maxeen Wegner
Robert and Sandra Wess
Patricia West and William Cummings
Sharon Whitney
Glenna Wilder
Thomas Williams
Wendy Willis
Martin and Carolyn Winch
Vincent and Patricia Wixon
Katherine Wolfe and Larry Zowada
Marilyn Woodrich
Antoinette Wright
Carolyn Wright
Gayle Yamasaki
Sally Yee
Barbara and Gary Young
$0 to $99
Howard Aaron
Louise Adams
Mary and Richard Adkisson
Alys Allwardt
BJ Anderson
Anonymous (10)
Linda and Eugene Appel
Delfino Arellano
Robert Arellano
Liz and James Artaiz
William Ashworth
Martha and Glenn Bailey
Claire Barr Wilson
David Barringer
Reva Basch and Jerry Shifman
Range Bayer
Geof Beasley
Mary Bedard
John and Lynn Betteridge
Patricia Beverly
Cindy and Gene Biboux
Jennifer Bildersee and Jay Anderson
Erin Boers
Elizabeth and John Bolte
Mary Bothwell
Amy Botula
Kathi Bowen-Jones and David Jones
Jules Boykoff and Kaia Sand
Christopher Bratt
Sierra Bray and Peter Kagey
Catherine and Thomas Briggs
Paul Brown
Steve Buresh
Ian Burrell
Paul Byrtus
Laurie Caesar
Julia Karnes
Doug and Liz Capps
Claire Carder
Justin Chin
Jenny Chu
Cary Clarke and Meredith Dunn
Karen Clarke
Leigh Coffey
Margaret Collins
William Collins and Margaret Hart
Lois A. Colton
Mary Ann Constans
Seth Cotlar
Taryn Cowart
Harold Cox and Marilyn Fisher
Paula Cracas
Corrinne and Bryan Crawford
Sharon and Theodore Crocker
Keith and Jake Daly
Linda Danielson
May Dasch
Robert Davis
Stacy Day
James Dean
Sarah Deumling
Robert Devoe
Dorothy K. Dinneen
Zana Dorres
Thomas and Nancy Doulis
Veronica Dujon
Don Dumond
Jo Durand
Debbie Durham
Julie Durkheimer
Lisa Ede
Valerie Egan
Betsy and Jim Elliott
Beth and Bill Ellis
Briana Falduti
Elizabeth Farrell
Thomas Fawkes and Judith Poxson Fawkes
Louise Feldman
Sandra Ferguson
Margot Fetz
Wendy Feuer
Joanne Fleming
Raissa Fleming
Susan Forkner
Ruth and Herman Frankel
Marc Franklin
Ken Fransen
Cosette Freeman
Robin Friedman
Jocelyn Furbush
Roger Gaither and May Garland
Erna Gelles and Alan MacCormack
Maralee Gerke
Christopher Ghormley
Roxanne Nelson
Janet Goetze Sanderson
Glenda Goldwater
Patricia Gordon
Benna Gottfried
Jacquelyn Grandy
Donna Gregerson
Paul Gregorio
Michael Griggs
Gail Grimes
Barbara Groelz
Nancy Gronowski
Barbara Haga
Chris Hagerbaumer
Wendy Hambidge and Craig Redfern
James Hamrick
Richard Hansen
Maria Harris
Haldane Harris
Sandra and Ashley Hart
Peter Hatcher and Harriet Stosur
William and Elizabeth Hathaway
May Hays
Christina Hefty
Andrea and Ted Heid
Paul and Maggy Henry
Sydney Herbert
Jack and Irene Hilbourne
Yuka Hirota and Matthew Courtway
Gerry Hodges
Mark and Ann Hollyfield
Laura Hopper
Sheryl Horwitz and Larry Knudsen
Nicole Howard and David Moyal
Kamla Hurst and Mark Yamagishi
Lawson and Janet Inada
Scott Jackson
Vickie and Donald Jackson
Nancy Jamieson
Donald and Mary Jenkins
Doug and Antonia Jenkins
Noah Jenkins and Lora Worden
Ann Johnson
David A. Johnson
Jena Johnson
Nels Johnson
Perry Johnson and Carol Elwood
Colin Jones
Marean Jordan
Kathleen, Robert, and Zach Joy
Jack and Farol Kahle
Beth Kaye
Edward and Debra Kaye
Peggy and Jim Kelter
Janice and Mark Kettler
Jerome Kleffner
Rachel and Marc Klippenstein
Kristan Knapp
Lisa C. Knisely
Robert J. Kocarnik
Don and Judith Kramer
Ron and Jeanne Kriesel
Betty LaDuke
Bromleigh and Mary Lamb
Jann Lane
Cecilia Larson
Linda LeBrun
Philip Levinson
Louie Levy
Philip Lewin
Susan Lienhart
Sydney Linden
Charmaine Lindsay
Ruth Lizotte
Henry and Marcia Lorenzen
Richard Lufrano
Fiona MacNeill
Melissa Madenski
Bill and Mary Mainwaring
Roberta Margolid
Lynn Marx
James Mayer
Selma McAlaster
Jen and Grant McCaw
Anne McLauglin
Meara McLaughlin and Philip Graham
Barbara McLeod
Joan and Frank McNamara
Heidi and Dylan McNamee
Margaret Mead
Jackie Melvin
Christine Menefee
Sara Meyer
John and Diane Miner
Judy Monroe
Glenn Montgomery
Chris Mooers
Jeffrey Morgan
Al and Peggy Morlang
Emily Mostue
Joanne Mulcahy
Julie Mulley
John Murphy
Patricia J. Murphy
Fred Neal
Ann Nelson
Linda Nelson
Priscilla M. Nelson
Annette Newman
Carol Tova Newman
Vicki Norcutt
Melissa Nubla
Donna Ollis
George and Deborah Olsen
Sara Olsgaard
Keli Osborn
Constance Palaia
Vicki Palmer
Rita Powell
James Parker
Nancy Perl
Joan Peterson
Caryn Pinard
Lillian Pitt
Sandy Polishuk
Jonathan Potkin
David Prescott
Sarah Prichard
Lidwina and Habib Rahman
Richard and Patricia Rankin
Valerie A. Rapp
Sigrid Rasmussen
Shelley and Mary Reece
Capitola E. Reed
Janet and Richard Reed
Cleo Reilly
Dan Rivas
Mark Rochester
Terence Rokop
Nancy Kay Rom
Bonnie Roseman
Charles Rosenblum
Caroline Ross
Glenn and Monet Rubin
Sheryl Sackman
Stephanie Sameh
Dave Santen
Leslie Schockner
Beverly Schumacher
Simon and Katie Scott
Christine Shanaberger
Gary Sharp
Gabe Sheoships
Laura Sherrill and Stephen Chipps
Suzanne Sigafoos
Howard Silverman
Maureen Sloan
Archie Smith
Barbara C. Smith
Marjorie Smith
Pat Smith
Valarie Smith
Cheryl Snow and James Ancell
Marina Snow
Lori Sours
Ruth South
Scott Sparling and Harriet Miller
Debbie Steinman
Christy Stevens
Mardy Stevens
Arthur and Marilyn Sullivan
William Sullivan and Janell Sorenson
Ellen Summerfield
Alice Tallmadge
Diane L. Taylor
J. Mary Taylor
James Taylor
Ellen Teicher
Ian R. Templeton
Margaret J. Thompson
Jennie Tucker
Virginia Tyler
Jan Tysoe
Susan Uravich
Scott Urbatsch and Jessica Duke
Maureen Utz
Gerard and Rita Van Deene
Michael and Sarah Van Kleeck
Jim Van Loan
Barbara Van Raalte
Thomas Van Raalte
Ellen Vanderslice and Scott Parker
Deanne Vandevert
Deb Vaughn
Dorothy Velasco and John Dewenter
Jean Vercouteren
Veronica Vichit-Vadakan
Jennifer Viviano and Fritz Paulus
Martha Wagner
Leslie and Bill Waldman
Mark Wales
Carol Walker
Ann Walsh
Naomi Wamacks
Rich B. Wandschneider
Jo Ann Weaver
Carole Weber
Fredericka Weishahn
Roy and Mary Weissinger
Karen Wells
Julia and Paul Westerberg
George Westermark
Jane White
Penelope White
Jen Wick
Alan Wilcox
Kyenne Williams
Tara Williams
Daryl and Wallace Wilson
Allison Winningstad and Michael Dennis
Paulette and Lynn Wittwer
Mike Wolf
Kathleen Worley
Tracy Wyatt
Matthew Yake
Jo Yeager
Akiko Yokota
Janet Young and Robert Hinger
Vivian Yuan
Irene Zenev
Martin Zwick
Gifts in Honor and Memory
Gifts in Honor
Ed and Maureen Battistella in honor of Ulrich Hardt
Patricia Beverly in honor of HDA Crook County
Cindy and Gene Biboux in honor of Judith Mills
Patricia Connolly in honor of the wedding of Sarah Hardin and Maggie Starr
Lisa Ede in honor of Peter Sears in honor
Valerie Egan in honor of Hillary Clinton
Raissa Fleming in honor of Bob Speltz
Jesse Friedman and Laura Hadden in honor of Hillary Clinton
Robert Gentry in honor of Peter Sears
Benna Gottfried in honor of Nick Johnson
David A. Johnson in honor of Nicholas Johnson
Annie and Aaron Kaffen in honor of Oregon
Jill Powers Kirk in honor of Adam Davis
Kristan Knapp in honor of Rita and Charles Knapp
Gary Maffei in honor of Janet Webster
Ann Magill in honor of Rich Wandschnier and Amy Blossom
Richard Meeker in honor of Ellen Rosenblum
Mona Suehiro Mozeico in honor of Carol Holt
Rita Powell in honor of Tracy and Jack Graham
Deborah Redman and Donald Whittemore in honor of John and Priscilla
Deborah Redman and Donald Whittemore in honor of Rudolph and Nevart Marth
Archie Smith in honor of his granddaughter, Luella Pearl Gaddie
Ann Starr in honor of Oregon Humanities magazine
Robyn Steely in honor of Adam Davis and Oregon Humanities staff
Mardy Stevens in honor of Sarah Alibablaie
James Taylor in honor of Tim and Dawn Moe
Kate Thompson in honor the marriage of Casey and Jung Lim Bonsi
Christine and David Vernier in honor of Sona Andrews
Tara Williams in honor of Peter Sears
Irene Zenev in honor of Charlie Walker
Gifts in Memory
Claire Barr Wilson in memory of Bob Wilson
Don Dumond in memory of Carol S. Dumond
Janet Goetze Sanderson in memory of Eva and Gerhard Goetze
Esther Gross in memory of Jacqueline Davis
Bette and Dean Husted in memory of Katharine Sheldahl-Thomason
Cynthia Jacobi and Gary Lahman in memory of Andrew Rodman
Gretchen Kimsey in memory of Rustin R. Kimsey
Bromleigh and Mary Lamb in memory of Dean Phelps
Jann Lane in memory of Hugh S. Crim
Ward and Gale Lewis in memory of Robert L. Hamm
Ken Limbocker in memory of Marg Limbocker
Fiona MacNeill in memory of Logan Farrell
Joanne Mulcahy in memory of Paul Mulcahy
Julie Mulley in memory of Marian Normand
Constance Palaia in memory of Dusty Palaia
Lillian Pitt in memory of RE Bartow
Sigrid Rasmussen in memory of her brother, Henry
Deborah Redman and Donald Whittemore in memory of Flippy and Nougat
Leslie Schockner in memory of Thelma C Schockner
Elizabeth Sheehan in memory of Peter Sears
Peter Stone in memory of Gwendolyn Ston
Maureen Utz in memory of Madalyn A. Utz
Deb Vaughn in memory of Bryan Doyle
Whit Wagner in memory of Peter Sears
Naomi Wamacks in memory of Clifford Wamacks
Ben Waterhouse and Deanna Oothoudt in memory of Dolores Ziedrich
Priscilla Bernard Wieden and Dan Wieden in memory of Gwen Ifill
Vincent and Patricia Wixon in memory of Anne Decker
Jo Yeager in memory of Tom McCall